#1 Commercial Outdoor Lighting Services in Palm Beach County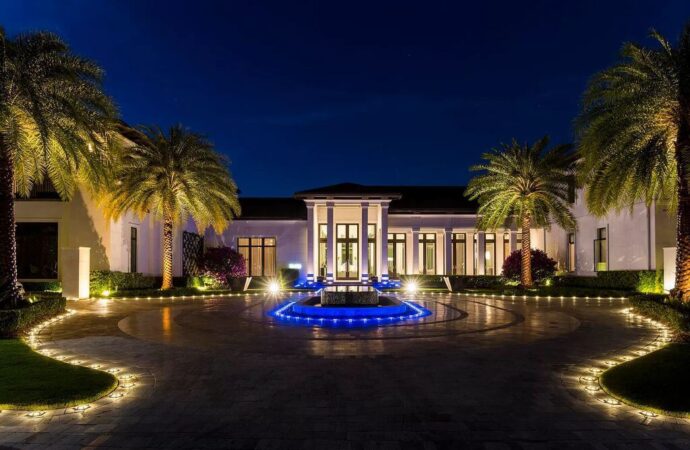 Business areas are places where so many things happen with so many of them going up the night. If you have a business without proper lighting, you might find yourself having to cut your operations when night falls. To stay in activities even during the night, you need to fit lights in your place to allow yourself to remain in operation even as darkness comes in.
In short, if you have a business, it is essential to fit lights in your business to allow you to carry on your business during the night. When it comes to commercial outdoor lighting, so many people tend to think that it is just about fitting lights in place anyhow, that is not the case.
The process of commercial outdoor lighting requires top skills and experience for installation and design. If you need to light up your commercial area properly, reach out to us and we can show you our skills and experience today.
The person you look for must have the right skills to enable them to identify the right lights for this process. After determining the right lights for your commercial area, the person you choose for this process has to know where to fit these lights.
You need to know that most customers prefer business areas that are well lit as they consider them to be safer. Therefore, you have to make sure you do the lighting in your business area in a way that will enhance safety in your business area.
You need to make sure that you cover every part of your business with lights to make it secure. The arrangement of the lights in your business area must also be in a unique arrangement. Starting from the gate, you need to arrange the lights in a way that will appear to be guiding the clients to your business.
To make things even much better for yourself, you can make use of attractive lights that will make your business areas to look different and unique. All you need to do to achieve this is to look for the best and well-trained experts for this process.
Palm Beach Landscape Design and Hardscape Pros is one top company that have so much experience in the entire field of lighting. The company has workers that are well trained to deliver perfect services in commercial areas. Depending on your business and how you would like to light it the Palm Beach outdoor lighting is the best company that will help you with that.
The Palm Beach outdoor lighting company is very innovative. The experts from the company will not just do the lighting in your business area in an ordinary way; they do it in the best way possible to not only illuminate your business area but also leave it attractive well.
If you are worried about the charges to worry no more, the Palm Beach outdoor lighting offers quality services at very affordable prices. For any assistance, you receive from the company they will provide you with quality services that will leave you satisfied.
If you have some styles that you prefer in your business building, the company will also consider that as well. There are so many ways by which the company will use to illuminate your business area to make it stand out.
Even though the company majors in outdoor lighting, if you need lighting services, the company will be able to offer those services as well. You do not need to have a dark business area, reach out to Palm Beach outdoor lighting, and they will provide you with perfect functions.
 Every business area must be well lit at all times to enhance safety. The process of lighting up your business areas is not easy; it requires skills and expertise. If you need to carry out this process in a perfect way, you need to reach out to Palm Beach Landscape Design and Hardscape Pros. This is the best company when it comes to lighting services and will undoubtedly offer you quality services.
When it comes to outdoor living areas, Ornelas Landscape Design are the best. We are very reliable, and we have proven through our perfect work that we are the best and very dependable. The list above comprises of the top services that we offer as a company. We have the skills and the capacity to deliver these services correctly. These are the services that you can get from our team of professionals;
Landscape Design & Installation

Outdoor Patios

Outdoor Pergolas

Stonescapes

Residential Landscaping

Commercial Landscaping
Irrigation Installation & Repairs

Drainage Systems

Landscape Lighting

Outdoor Living Spaces

Tree Service

Lawn Service
Here is a list of our services you can get at Palm Beach Landscape Design & Hardscape Pros:
---