Top Pergola Installation Services in Palm Beach County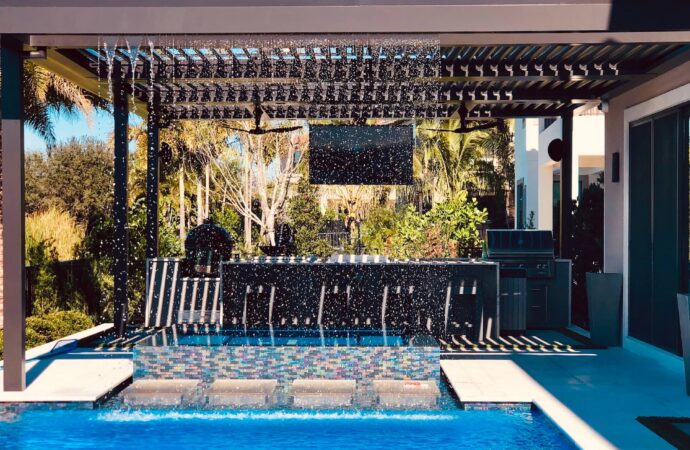 Pergolas have the redefinition of the modern eras. The good thing is that they have so many options that you can make your purchase from that add up value, enjoyment, and beauty to the open spaces of all shapes and sizes. 
The market offers a wide range of pergolas, and when buyers are making their choices, they often tend to make some common mistakes that could be stressful in the future. But when you have the checklist, this could help you in making the right choices. Here are some of the tips that should be included in the pergola shopping checklist.
Right Material
Make sure that you are choosing a pergola that could last for more years and still look beautiful. And usually, the right material choice is the main point. Most of the arched pergolas are generally made of concrete, steel/aluminum, PVC/ vinyl, and wood. And the most reliable material among all these is wood.
However, there exist varieties of woods like redwood, cedar, and teak, among others. The choice of wood that you are going to select is a great determiner of how long your pergola could stay.
Thicker Structures
The thicker the pergola wood structures, the longer they are going to last. Before settling on what to buy, ensure that you are considering the quality and thickness. An excellent way to compare two similar pergolas is by looking at their shipping weight, a genuine indicator of the heaviness of competing products.
Notching
The notched pergolas will always last for longer and are resistant to any wind capacity. Therefore, before buying your wooden pergolas, ensure that you are asking the manufacturer whether they are notched or not. As a buyer, you should be aware that notching fortifies the structure and creates interlocking joints, as well. More so, it will help your timber stay true over the decades as it cannot move.
Moisture Issue
When making your purchase, ensure that you are considering the moisture of your local weather. Less expensive materials will often last longer in dry climates, but when the environment is moist, then this gets weakened gradually. Pergolas last longer in drier gentle climates, but when there are moisture and extreme weather, then the quality of wood should be your priority.
Manufacturer's Warranty
Despite the pergola being custom designed, ensure that you are looking at the warranty of the manufacturer so that you can be sure of getting some replacement parts in the future. You must look for a dealer with at least five years of service. These manufacturers are more reliable when it comes to aiding you with replacement parts and fulfilling the warranty of their products.
Assembly required/Assembly Instructions
You must make sure that you are collecting the assembly instructions from the manufacturers. You can always ask for this and receive them via email to ascertain the amount of work you are in for. Most of the pergolas can be installed in a single day. Ensure that they are fully erected in the shop before shipping them out as you will be sure of installing them properly. Ensure to ask if there is any carpentry work you need to do.
When buying the pergolas, you will find that the best quality timber will always be costlier. Therefore, you decide to make what to purchase, depending on the longevity you wish your structure to last. After determining this, ensure that you are checking out the manufacturer's warranty that is going to match your preferences.
There are many manufacturers of pergolas on the web. But when making your choice ensure that you are settling for one that has an outstanding business record in the field. Palm Beach Landscape Design and Hardscape Pros is one reliable pergola manufacturer that has been in this business for a decade.
When it comes to outdoor living areas, Ornelas Landscape Design are the best. We are very reliable, and we have proven through our perfect work that we are the best and very dependable. The list above comprises of the top services that we offer as a company. We have the skills and the capacity to deliver these services correctly. These are the services that you can get from our team of professionals;
Landscape Design & Installation

Outdoor Patios

Outdoor Pergolas

Stonescapes

Residential Landscaping

Commercial Landscaping
Irrigation Installation & Repairs

Drainage Systems

Landscape Lighting

Outdoor Living Spaces

Tree Service

Lawn Service
Here is a list of our services you can get at Palm Beach Landscape Design & Hardscape Pros:
---