Affordable Drainage Systems in West Palm Beach, FL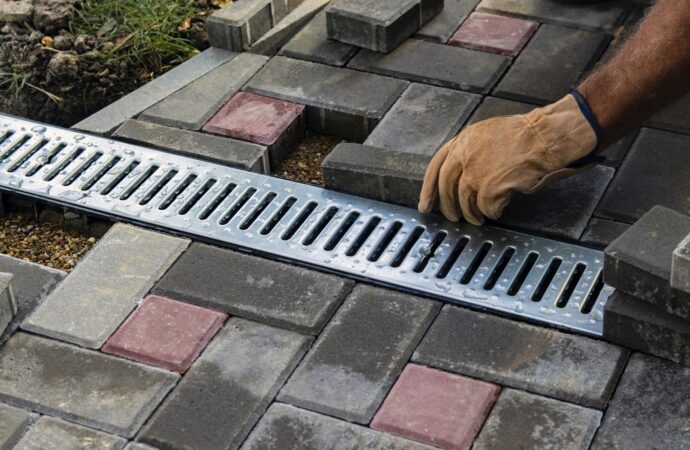 Are you experiencing a heavy downpour? Do you ever notice that your gutters are easily waterlogged or clogged with rubbish? Perhaps even clogged with rot? This not only a bad sight for yourself, your family, and any passersby. In such cases, it can also cause exterior damage to your home. If left unattended, it could become worse and may eventually cause interior damage to your home. Before this happens, I would strongly suggest you consider having a proper Drainage System in place.
I bet now you are wondering, who you could reach out to install such a system? Lucky for you, "Palm Beach Landscape Design and Hardscape Pros" are at your service. We are a team of hardworking, dedicated, and responsible individuals that take installing your drainage system, seriously. Why? Because we ourselves hate having clogged pipes or gutters. One of the worst things would be to suffer from the exterior and interior damage to our homes due to something perceived to be a small matter, such as a blocked drainage system.
This is why having a proper drainage system in place is important. Not only does it save us from such damages, but in the long run, it would also be a cost-effective method. Think of all the money you would save on repairing such damages. Therefore, taking preventive measures, in this case, are most definitely better than curing the damage which may occur to our home.
Are you interested? Reach out to us now and we will do our best to support you with the best quality which you deserve. Unsure of how your drainage system should be designed? Don't worry, our team can take care of that. We are truly your one stop solution for your landscaping needs. Say, why not check out our other services?
Who knows, maybe there are some services within our list which you may be interested in: Landscape Design & Installation, Outdoor Patios, Outdoor Pergolas, Stonescapes, Residential Landscaping, Commercial Landscaping, Irrigation Installation & Repairs, Drainage Systems, Landscape Lighting, Outdoor Living Spaces, Tree Service and Lawn Service.
Get your drainage system done today!
When it comes to outdoor living areas, Ornelas Landscape Design are the best. We are very reliable, and we have proven through our perfect work that we are the best and very dependable. The list above comprises of the top services that we offer as a company. We have the skills and the capacity to deliver these services correctly. These are the services that you can get from our team of professionals;
Landscape Design & Installation

Outdoor Patios

Outdoor Pergolas

Stonescapes

Residential Landscaping

Commercial Landscaping
Irrigation Installation & Repairs

Drainage Systems

Landscape Lighting

Outdoor Living Spaces

Tree Service

Lawn Service
Here is a list of our services you can get at Palm Beach Landscape Design & Hardscape Pros:
---