Top Retaining Wall Contractors in Palm Beach County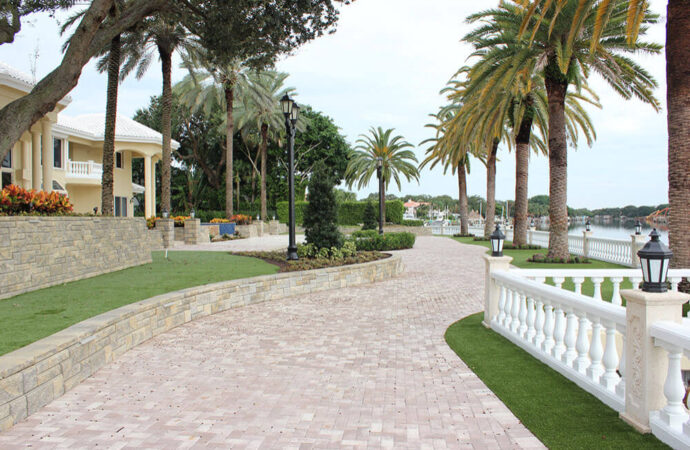 If you are experiencing constant soil erosion due to the nature of the landscape in your compound, then you need to consider putting up a retaining wall in your compound. Retaining walls are the perfect solution to landscape issues in your compound.
One of the primary roles of retaining walls is that it helps to contain the problem of soil erosion.  All you need to do is to look for someone who understands retaining walls accurately and the one who knows where to locate the retaining wall.
If the retaining wall is built in the right way, it does not just serve its role perfectly but is also makes your home stand out. Depending on where you bring up the retaining wall, if the process is carried out in the right way, it will give your home an edge over the other homes.
Real estate experts have proven that a home with proper retaining walls is more likely to fetch a higher price compared to the other houses. Thus, retaining walls come with considerable benefits to your home when appropriately built.
If you are sure that you are going to build a retaining wall in your compound, then you need an expert for the job. Even though there are so many experts who are good at building retaining walls, you need to know that retaining walls vary.
Some are easy to build, while others are not. Depending on the retaining wall you need to construct, you need nothing but the best for the job. The structure and the design of the retaining wall is an essential thing that whoever is doing the construction must consider.
Without a doubt, the construction of a retaining wall is not an easy thing. It is one process that requires so many skills and experience that not so many have. Our company has done them throughout the county for years on end.
The company has the best experts who are well trained and skilled to make sure they design and construct any type of retaining. Depending on the purpose of construction, the company can make sure they bring up a perfect and long-lasting retaining wall.
The durability of a retaining wall is an essential thing to consider. Our Palm Beach company designs the best retaining walls that will last you a lifetime.
The experts from Palm Beach are well aware of all these possibilities and know perfectly how to design the retaining wall to withstand them. Once you contact them, the experts from the company will use their knowledge and the right materials to construct for you a retaining wall that is durable and will last you a long time.
Materials play a massive role in the life of a retaining wall. If the retaining wall is not built using the right materials, then it will most likely not last an extended period. The experts from Palm Beach are always committed to making sure they deliver perfect services when contracted.
These experts know how to choose between the best and the wrong materials. Due to their integrity, the experts will use the best materials for this job to make sure they leave you with a durable retaining wall that will not just curb the problem of the soil erosion but will also enhance the value of your home.
If you are going to construct a retaining wall in your compound, then you need one that is durable and attractive at the same time. Building such retaining walls is not an easy thing to do. It is a process that is complicated that can only be carried out by experts like Palm Beach Landscape Design and Hardscape Pros. This is one company that has the best and reliable experts who know how to construct retaining wells properly.
When it comes to outdoor living areas, Ornelas Landscape Design are the best. We are very reliable, and we have proven through our perfect work that we are the best and very dependable. The list above comprises of the top services that we offer as a company. We have the skills and the capacity to deliver these services correctly. These are the services that you can get from our team of professionals;
Landscape Design & Installation

Outdoor Patios

Outdoor Pergolas

Stonescapes

Residential Landscaping

Commercial Landscaping
Irrigation Installation & Repairs

Drainage Systems

Landscape Lighting

Outdoor Living Spaces

Tree Service

Lawn Service
Here is a list of our services you can get at Palm Beach Landscape Design & Hardscape Pros:
---