Top Patio Design Contractors in Palm Beach County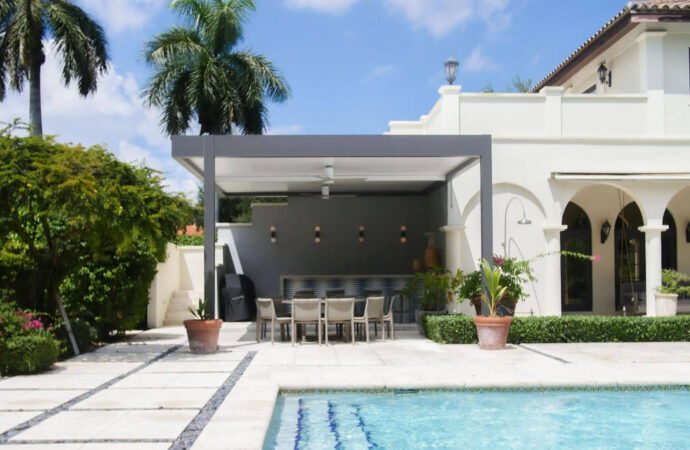 When you add a cozy and new patio to your home, this will certainly add up some value. And when we talk about the value enhancement, this does not only come as a real estate value but also the venue of enjoyment with family and friends.  
Have you ever thought of adding a new patio to your beautiful home that you have owned for over a long time? Well, for most people, it will be yes. But the main reason why most people fear indulging in this task is the fear they will not be able to afford it. The good thing is that outdoor patio designs are flooding on the internet in the present, and some of them are worth viewing. 
It does not matter the kind of architecture and style that your home features. There are plenty of patio designs that can complement. Just take an example of the brick made patio designs. This will significantly look good with the traditional tudor or the colonial style homes. Similarly, the Spanish architecture could be splendid with the stamped concrete made patio designs.
The various types of patio designs include;
Brick patio designs 
This patio designs can be easily put down on a typical sand bed or onto a thick layer of poured concrete. However, this will depend on where you are living and the purpose of the intended area. Yet, these breaks should be laid in different patterns that could be fun and interesting as well. The good thing about the brick patio designs is that they come in many shapes, shades, colors, and sizes.
The concrete patio designs 
 Some people think that concrete has a sterile and cold look. The fact is – it does at times. But in the current world, numerous concrete patio designs are making use of a wide range of forms and color stains. These stains and styles make up excellent specific patio designs that have that look and feel of the Mexican styled tile pavers. 
When these patio designs are done right, they are stunning. With these, you can consider using them to create a suitable drainage system. Ensure that you are planning and pouring them well to avoid them turning into shallow ponds.
Talk to professionals  
The brick and concrete patio designs are not only beautiful but also practical. The best thing is that this is likely to last longer. Likewise, the patios and wooden decks need lots of maintenance, and at some point, this will need regular replacement with new ones after some years. More so, they are good inhabitants for bugs and get damaged easily by the occasional rainfall.
Therefore, for people who do not like the DIY, you must be hiring the services of professionals like Palm Beach Landscape Design and Hardscape Pros. This is because removing the concrete or brick patios is a hectic task and needs one to have the right tools and some expertise. 
When talking about the outdoor patio designs, then you need to consider incorporating one of the above models or consider decorative patio ideas. You will get to see that some people are considering the installation of aquariums and fountains while others are using the patio string lights 
You can choose to turn your patio design into an elegant looking personal backyard by using such inventive decorative ideas. But one thing to remember is that you should not overdo it as this could bring about that cramped look. 
Are you seriously looking for a way in which you can transform your patio into that comfortable and attractive spot for your friends and family to love spending some time? Then you must be conversant with the patio ideas and designs that are suitable for you. There exist so many decorative designs, and all that is needed here is selecting the one that best suits your interest and being more creative and innovative.
When it comes to outdoor living areas, Ornelas Landscape Design are the best. We are very reliable, and we have proven through our perfect work that we are the best and very dependable. The list above comprises of the top services that we offer as a company. We have the skills and the capacity to deliver these services correctly. These are the services that you can get from our team of professionals;
Landscape Design & Installation

Outdoor Patios

Outdoor Pergolas

Stonescapes

Residential Landscaping

Commercial Landscaping
Irrigation Installation & Repairs

Drainage Systems

Landscape Lighting

Outdoor Living Spaces

Tree Service

Lawn Service
Here is a list of our services you can get at Palm Beach Landscape Design & Hardscape Pros:
---