#1 Outdoor Spot Light Services in Palm Beach County FL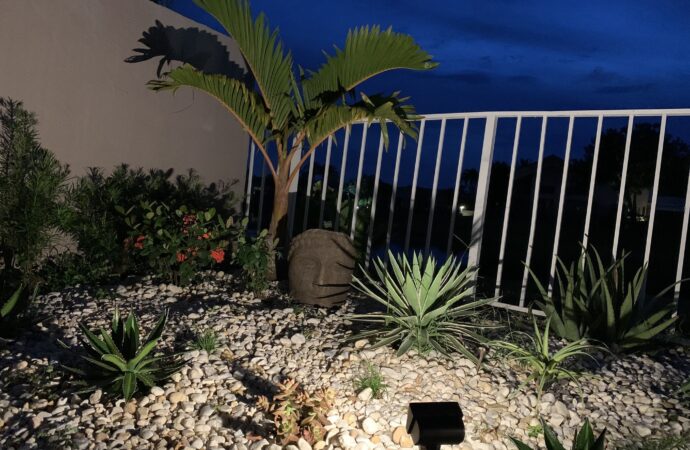 There are so many ways of securing your outdoor area, and one of them is using lights. There are so many types of lights that you can use to secure your compound, and a kind of them is outdoor spot lights.
Outdoor spot lights come in various categories that differ depending on so many things. Some of the differences in outdoor spot lights are power input, and the other is the performance. For the best outdoor illumination using the spot lighting, you need lights that are of exceptionally high performance.
Only high-performance lights will be able to enhance the security in your outdoor area. Such lights will cover a vast area, making it hard for somebody to sneak into your compound without getting noticed. If you have some night activities, high-performance lights will also be able to provide you with enough lights to allow you to carry on with your activities.
If you feel like you might not be able to pay for the high power expenses, do not lose hope. There are other types of high-performance outdoor spot lights that consume very little power. The LED and low voltage spot lights are mended for those people who always have reservations about paying higher power costs.
However, you can still acquire these lights if you feel like they fit you well. The only problem with them is being able to find someone who will fit them in place perfectly for you. It is important to note that outdoor spot lights have to be fit in place prudently.
If you have an area that you are targeting, then you have to aim the lights in that area correctly. We all know doing so is not an easy thing; that's why you need to look for someone who well experienced to help you with this process.
For the best results, you need someone who has been carrying out this process for a long period and the one who understands everything about it correctly. There are other cases where equipment becomes essential.
You also need to make sure that the person you chose for this job has the right equipment required to take on this task. In some simple words, you need an all-around person for this process. The description mentioned above only fits one person, Palm Beach Landscape Design and Hardscape Pros.
This is a company that majors in the installation of outdoor spot lights. The company has the best workers that they have trained so well for this process. Depending on your compound, the experts from the company know perfectly how to choose the best outdoor spot lights for this purpose.
If you need these lights either for normal illumination or security, the company will help you to do that correctly.  The experts from the company are very flexible. If you have any demands, you need to make to them regarding how you would like to have the spot lights the company's experts will also help you with that entirely.
The workers from this company are amiable, and you will enjoy working with them during the entire period that they will be working for you. Just in case you are wondering how the company will charge you don't worry.
The Palm Beah Company offers the best services at very affordable prices. Depending on the extent of the work, the company will offer you an excellent deal. Do not stress yourself by looking for a company that will not provide you top services, reach out to Palm Beach, and they will offer you the best services.
Outdoor spot lights are a perfect addition to your home security. They enhance the safety in your compound as well as making it very easy for you to see in your property. For the best outdoor spot light installation, you need to reach out to Palm Beach Landscape Design and Hardscape Pros, and they will offer you the perfect installation of these lights.
When it comes to outdoor living areas, Ornelas Landscape Design are the best. We are very reliable, and we have proven through our perfect work that we are the best and very dependable. The list above comprises of the top services that we offer as a company. We have the skills and the capacity to deliver these services correctly. These are the services that you can get from our team of professionals;
Landscape Design & Installation

Outdoor Patios

Outdoor Pergolas

Stonescapes

Residential Landscaping

Commercial Landscaping
Irrigation Installation & Repairs

Drainage Systems

Landscape Lighting

Outdoor Living Spaces

Tree Service

Lawn Service
Here is a list of our services you can get at Palm Beach Landscape Design & Hardscape Pros:
---