Top Tree Lighting Installation Services in West Palm Beach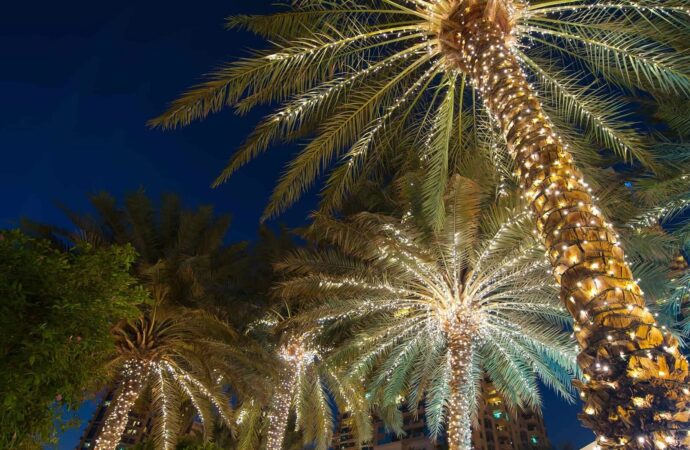 Trees provide a lot that you take for granted. They provide charm, beauty, oxygen, and shade. Tree lighting at night can showcase the charm of your landscape by opening your landscape scope beyond immediate outdoor space.
It is a great way of creating beautiful landscape effects that only designers from Palm Beach Landscape Design and Hardscape Pros can do. That is why the maintenance of trees is very vital. The precautions below are perfect when you want your tree to have the best health before installing tree lighting.
The overall health of the tree
Tree health is of course a vital factor in your efforts of adding outdoor lighting. You will not want to spend money and time showcasing rotten trees. For that reason, it is important to check on the signs of sick trees before doing tree lighting.
There are a lot of clues that will inform you about the health of your tree. One is comparing volumes of growth of new leaves to that of earlier years. You can look for flaky or loose barks, growth of fungus, or insect infestation on the surface of the bark.
Fertilization
Do you think your tree has enough nutrients for its health? The right nutrition is vital for maintaining the health of your trees. Since the composition of minerals in the soil varies widely, it is crucial to test the soil before adding fertilization.
You need experts from Palm Beach Landscape Design and Hardscape Pros to do this task. After testing, the expert will customize a solution that best suits your soil to supplement nutrients that are not in the soil.
Pruning
Pruning is yet another good way of maintaining the health of your tree. If there is no pruning experience, it is good to call an arborist from Palm Beach Landscape Design and Hardscape Pros. Branches that need pruning have to be pruned. Unnecessary pruning will damage your tree. You might learn a thing when you hire professionals. You can handle pruning by yourself next time.
Outdoor tree lighting
When you take these precautions, you will help keep the tree healthy and strong for many years to come. The addition of outdoor lighting will make the landscape feel extremely special. It will breathe new life in the landscape with dramatic effects that only tree lighting can produce. Regardless of the lighting type, you are choosing, make sure that it has good health before embarking on the lighting project.
For the majority of children, sitting before the Christmas tree with lights is a hobby in the holiday season. A lot of people remember spending moments doing that at all times. When you turn off the light inside the room and the tree lighting is on the tree, it will come up with a peaceful, beautiful glow to the whole space. Perhaps with music playing in the background, it will become a great way of spending your day.
Childhood memories
You may be having many memories of the Christmas tree as a child-like getting it to the stand and caring for it. Maybe it was your mother that placed the light on its branches for it to hold well on the hidden cords.
With carols playing, it curates lasting memories that can be honored by redoing them yearly. After placing the lights on the tree, you will put beautiful ornaments in the form of glass, crystals, and handmade pieces.
More than a tree
Even though Christmas tree lighting is put on the tree by itself, it has decorating capabilities for locations surrounding the house. For instance, you can employ them to decorate your banister or wrap cords on a favorite mirror. You can employ Christmas tree lighting on fixtures that are safe to use on.
You will be allowing items to fit on the themed home, which gives it more festive attention and character. Use tree lighting from Palm Beach Landscape Design and Hardscape Pros because it fits in the whole home.
When it comes to outdoor living areas, Ornelas Landscape Design are the best. We are very reliable, and we have proven through our perfect work that we are the best and very dependable. The list above comprises of the top services that we offer as a company. We have the skills and the capacity to deliver these services correctly. These are the services that you can get from our team of professionals;
Landscape Design & Installation

Outdoor Patios

Outdoor Pergolas

Stonescapes

Residential Landscaping

Commercial Landscaping
Irrigation Installation & Repairs

Drainage Systems

Landscape Lighting

Outdoor Living Spaces

Tree Service

Lawn Service
Here is a list of our services you can get at Palm Beach Landscape Design & Hardscape Pros:
---