#1 Landscape Lighting Installation Services in West Palm Beach FL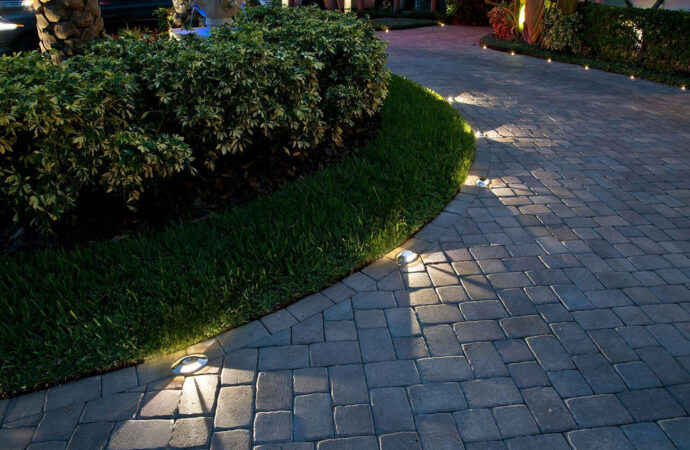 So many people end up with undesired landscape lighting results because they simply underestimate this job. Well, in the first place, this might seem like a straightforward job, but that is not the case. It is one task that is more complicated than you think.
Landscape lighting comes with so many elements that not so many people can manage to handle. In simple words, this is not a process that you can attempt by yourself. It is a process that calls for so many skills and expertise, and unless you have the skills, you might not be able to carry out this process in the right way as it should.
Before beginning the installation process, it is vital to carefully survey the compound and come up with a plan for the process. The plan will act as a perfect guide to the installation process and make it easy for the person doing the installation to fit the lights in place.
Design is essential for this process. If you need the installation done in some fashion, there should also be a plan for the same. So, in general, this is one process that requires expertise and skills. If you do not have the skills, you need to look for someone who is well experienced to help you with this process.
There are so many experts in the field of landscape lighting, but given that this process is very complicated, you need to be very careful with the people you chose for the job. You need the best person in the business, the one who is well skilled and experienced at the same time.
With proper skills and expertise, the installation of lights in the landscaped area will be effortless.  The Palm Beach Landscape Design and Hardscape Pros are the best company when it comes to landscape lighting. The company has the skills and experience needed to take on this job.
It is one of the oldest companies that have been offering the best services at very affordable prices. Depending on the nature of your landscape area, this is the best company that will do the lighting for you in a way that will not just be perfect but also very appealing to you.
Depending on how you would like the landscape lighting installation done, our company will deliver to you the results you desire. For example, if you have kids who'd like to play football at night, our company will carry out the process correctly to light the field so your children are safe in a well lit area.
It is essential that we remind you that outdoor lighting installation calls for the use of durable lights. Such lights will last a very long period and will not expose you to constant repair procedures. If you do not know how to distinguish between durable lights and those that are not durable, the company's experts will help you to do that correctly.
The Palm Beach outdoor lighting installation has stood out for a very long period for being able to deliver quality services. They will not just illuminate your compound anyhow; they will do so in a perfect way that will not only leave your compound well-lit but will also enhance its beauty.
The other important feature about the company before I forget is that they offer quality services affordably. If you are afraid of paying high amounts of money for services, this is the right company you need to contact.
Landscape lighting is essential in homes. It enhances safety as well as making your compound to stand out. However, carrying out this process is not an easy thing to do. It is a process that requires skills and expertise which very few people have.
If you need someone who can carry out this process for you correctly you need to reach out to the Palm Beach Landscape Design and Hardscape Pros, this is the best company in the business that is best placed to offer you these services.
When it comes to outdoor living areas, Ornelas Landscape Design are the best. We are very reliable, and we have proven through our perfect work that we are the best and very dependable. The list above comprises of the top services that we offer as a company. We have the skills and the capacity to deliver these services correctly. These are the services that you can get from our team of professionals;
Landscape Design & Installation

Outdoor Patios

Outdoor Pergolas

Stonescapes

Residential Landscaping

Commercial Landscaping
Irrigation Installation & Repairs

Drainage Systems

Landscape Lighting

Outdoor Living Spaces

Tree Service

Lawn Service
Here is a list of our services you can get at Palm Beach Landscape Design & Hardscape Pros:
---