Top Outdoor Firepit Contractors in Palm Beach County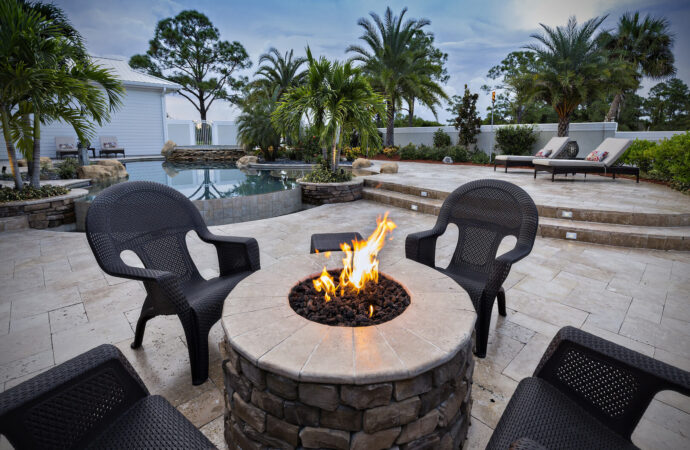 If you have been thinking of building an outdoor fire pit, then you need to know that this is the right time to do so. An outdoor fire pit is one of the best additions to your home, and it will significantly boost the value do your home and make it stand out.
In general, an outdoor fire pit that has been built properly will increase the beauty of your home and provide you with a place where you can sit and enjoy the warmth while having conversations with your friends. If you have a family, gathering around an outdoor fire pit will provide you with a perfect opportunity of bonding with your family and sharing some light moments.
So many people have relied on fire for so long for warmth, and that culture is not about to change now. People are coming up with innovative ways of taking the fire experience to the next level. People are trying to enhance the way they use fires, and that's why we have seen the emergence of fire pits.
There are so many types of outdoor fire pits, all of which serve in various areas. The good thing is that depending on your location, or even compound, there is the way you put up a fire pit in your compound.  If you are in a commercial area, then you can still be able to incorporate a fire pit into your compound.
Some people prefer fire pits close to their patios so that they can enjoy the warmth of the fire while they continue to relax. Outdoor fire pits come with so many benefits, but constructing them is not an easy thing to do.
When constructing an outdoor fire pit, the first thing you need to consider is your safety. This is very important. If you contract someone to build an outdoor fire pit for you, then the person should put into consideration the aspect of safety.
The outdoor fire pit should be safe enough for anyone who comes around to enjoy the fire. The other thing is that the fire pit should be placed at a very strategic position where everybody will be able to enjoy the fire equally.
These, among many other things, are the factors that make the construction of an outdoor fire pit such a hard thing to do. It is one procedure that very few people can execute. Well, that does not entirely mean that there are no people who can construct perfect outdoor fire pits, there are experts in this area.
The Palm Beach Landscape Design and Hardscape Pros is one company that has stood firm for a very long period when it comes to designing outdoor fire pits. The company has workers that have the skills and passion for this job.
If you need an outdoor fire pit that has been carefully crafted to reflect your style and preference, this is one company that you need to reach out to. The skills possessed by the workers from this company enables them to design and build any fireplace.
If you need a specific type of outdoor fireplace or maybe some specialization, then you need to reach out to this company. The company only constructs the best outdoor fire pit for you that will add some versatility to your compound, making it stand out from the rest.
If there are any legal guidelines in your area regarding outdoor fire pits, the company will adhere to them correctly. They have a track record for delivering the best services when contracted.
If you are looking for a well designed and built outdoor fire pit, you need to contact Palm Beach Landscape Design and Hardscape Pros. This is one company that has a reputation in the construction of outdoor fire pits and will surely create a perfect one for you.
When it comes to outdoor living areas, Ornelas Landscape Design are the best. We are very reliable, and we have proven through our perfect work that we are the best and very dependable. The list above comprises of the top services that we offer as a company. We have the skills and the capacity to deliver these services correctly. These are the services that you can get from our team of professionals;
Landscape Design & Installation

Outdoor Patios

Outdoor Pergolas

Stonescapes

Residential Landscaping

Commercial Landscaping
Irrigation Installation & Repairs

Drainage Systems

Landscape Lighting

Outdoor Living Spaces

Tree Service

Lawn Service
Here is a list of our services you can get at Palm Beach Landscape Design & Hardscape Pros:
---