Top Landscape Lighting Contractors in Palm Beach County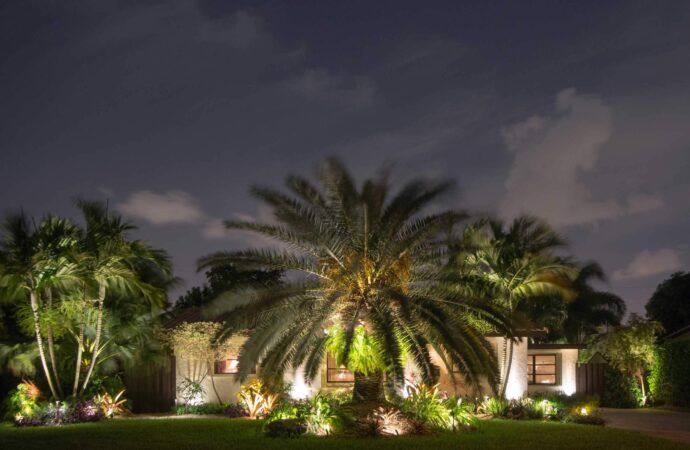 Let us agree that not so many of us focus on lighting the outdoor. We tend to focus so much on lighting in our house and forget illumination on the outside. Well, just to let you know, outdoor lighting is more important than the lighting in your home.
To understand this, you need to understand all the primary roles of lighting. Other than just enabling us to see things correctly during the night, lighting comes with other benefits as well. For instance, lights play a role in the security of your compound.
If you have proper lighting around your home or business are then criminals, and other intruders will be less likely to target your home. On the other hand, a home that is in total darkness is more likely to attract criminals and other intruders.
Other than safety, landscape lighting can also be used for other purposes like decorations or even during events and celebrations. One of the mistakes that people make is assuming that outdoor or landscape lighting is such an easy thing they can do it themselves.
Well, that is not the case at all. The process of landscape lighting begins by identifying the right lights for this area. Since landscape lights stay on for so long, you need to look for lights energy efficient. For landscape areas, you need low voltage lights, which will help you to reduce some of the high energy bills that come with lighting.
After identifying the right lights, you need to move on to look for someone who understands well the process of landscape lights perfectly. Landscape lighting is not just about fitting any type of light anywhere. It is about identifying the right places to install these lights.
Unless you chose the best person for the process of installing these lights for you in your compound, you might not be able to get the best of them. For the best landscape lighting, you need to contact the Palm Beach Landscape Design and Hardscape Pros.
This is one company that has proven its prowess in the field of landscape lighting. The company has the best and well-trained workers who know how to fit the rights where. The experts will begin by helping you to identify the right lights for your location before moving on to start the installation process.
Whether it is in a residential area or commercial area, the company knows how to install the landscape lights in place correctly. The experts can install different types of lights in your compound for various purposes.
For instance, if you need to install some lights in your garden, the company will be able to do that for you in a perfect way. If you live in an insecure area and you need to enhance the security of your compound with lights, the company will also do this for you correctly.
The Palm Beach Company has managed to draw so much reputation to itself due to the perfect work that it has been doing in various areas. This is one company that is best placed to give you the best landscape lighting services that will not just enhance safety in your compound but also make your compound to stand out.
The company is very reliable and worth trusting. There is no better way of lighting your outdoor other than contacting the Palm Beach Company. This is the only place where you will be able to get the best services that you cannot find from anywhere else.
Landscape lighting is a process that must be undertaken with so much care. If you need to illuminate the exterior of your house, then you need to look for the best person for this process. The Palm Beach Landscape Design and Hardscape Pros is the best company that you need for this process. Reach out to this company, and they will offer you the best services in landscape lighting.
When it comes to outdoor living areas, Ornelas Landscape Design are the best. We are very reliable, and we have proven through our perfect work that we are the best and very dependable. The list above comprises of the top services that we offer as a company. We have the skills and the capacity to deliver these services correctly. These are the services that you can get from our team of professionals;
Landscape Design & Installation

Outdoor Patios

Outdoor Pergolas

Stonescapes

Residential Landscaping

Commercial Landscaping
Irrigation Installation & Repairs

Drainage Systems

Landscape Lighting

Outdoor Living Spaces

Tree Service

Lawn Service
Here is a list of our services you can get at Palm Beach Landscape Design & Hardscape Pros:
---