Top Outdoor Kitchen Installation Pros in Palm Beach County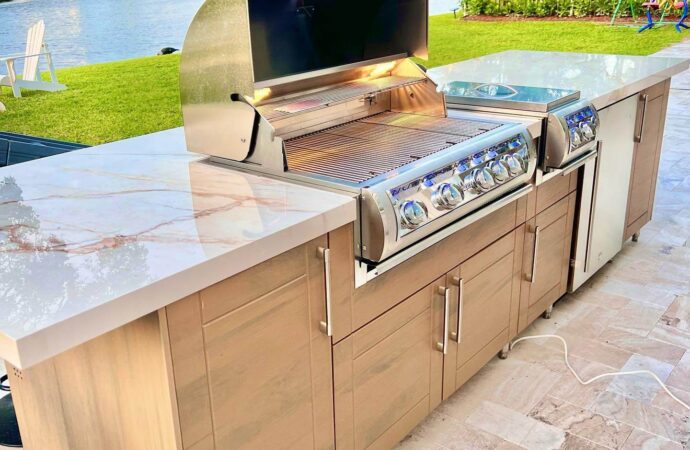 In recent, we get to see more and more homes being built or modernized inclusive outdoor living spaces. And in many cases, this includes the outdoor kitchen. This can help make your cooking entertaining and also take your lifestyle to another new level. These outdoor kitchens come with lots of benefits. 
It creates a second kitchen
When your central kitchen is out of order, the outdoor kitchen comes in being handy. This kitchen has a mini-refrigerator, a sink, and even includes a grill. They can help you when going through plumbing emergencies, or when you need to remodel your central kitchen. 
It makes entertaining easier 
The outdoor kitchen has made things much more comfortable. You do have not to go to and from making trips to fetch food and drinks for the guest. Everything that you need is right there with you. You can feed your guests comfortably without necessarily disrupting their talk. 
And when you need to prepare an extra meal like a salad, no need to go inside. You can do it right there while you engage in the conversations and have fun also while doing so.
It can enhance your social life
With the outdoor kitchen, you can be able to improve your social experience in different ways. At first, this will give you a high chance of inviting your friends over for dinner, as you need to show off your new kitchen. And since each one of us loves checking new home advancements, you will get a chance to interact with more of your neighbors. Also, it gives you a chance to chitchat over the fence with your neighbors. 
It makes grilling a family affair 
With the outdoor kitchen, the entire family can be included in the meal, making the process. Dads do not have to sit alone on the outside by the grill waiting for supper while everyone else is on the inside. The meals are now being prepared beside Dad as conversations take off before the entire family sits down to take supper. 
You can remodel without having to spend a ton of money
When you need to remodel your home, and you do not have thousands of dollars, then having an outdoor kitchen could be one great solution. This gives you the chance to add one more functional room to your house thus enhancing your living space. 
What you need to do here is pick out some small accessories, appliances, and new kitchen cabinets than if you were remodeling your central kitchen. You can get that kitchen design that you have been desiring without necessarily going through a kitchen remodel.
It increases your resale value 
The outdoor kitchen is among the most up-to-date trends in home designs that boost your home's resale value. This room not only makes your home look more updated and modernized but also will create that aesthetic appeal to the buyers, especially when made of perfect designs and colors. 
It gets you outside
The whole truth is that most of the family members are glued to computers, television, and even phones making it hard for them to get to the outside. But outdoor dining has helped to turn the daily occurrences of making dinner into something more exciting. You can now light a few candles, and enjoy the fresh air while you listen to music-making dinner at that particular event.
Before you can decide on starting an outdoor kitchen, consider one thing, will you use it fully? If you and your family love grilling and enjoying outdoor entertaining and dining, then this outdoor kitchen could be a great addition to your home. Palm Beach Landscape Design and Hardscape Pros has you fully covered to make your project a success, from experts in outdoor kitchen designing to the necessary materials.
When it comes to outdoor living areas, Ornelas Landscape Design are the best. We are very reliable, and we have proven through our perfect work that we are the best and very dependable. The list above comprises of the top services that we offer as a company. We have the skills and the capacity to deliver these services correctly. These are the services that you can get from our team of professionals;
Landscape Design & Installation

Outdoor Patios

Outdoor Pergolas

Stonescapes

Residential Landscaping

Commercial Landscaping
Irrigation Installation & Repairs

Drainage Systems

Landscape Lighting

Outdoor Living Spaces

Tree Service

Lawn Service
Here is a list of our services you can get at Palm Beach Landscape Design & Hardscape Pros:
---