Top Residential Outdoor Lighting Services in Palm Beach County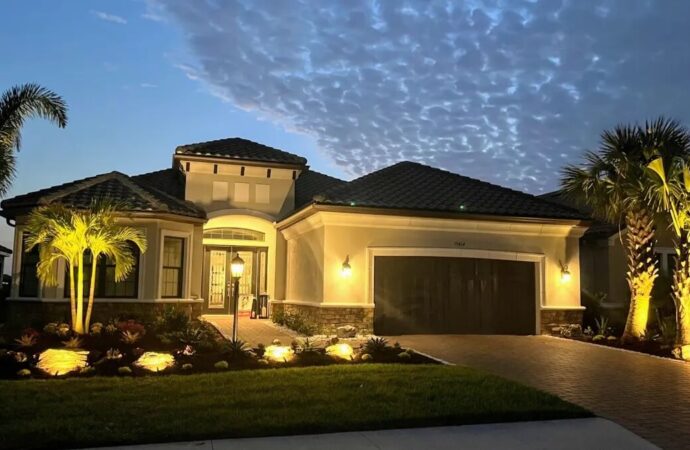 Most people recognize the charm and need of residential outdoor lighting. Attempting to light your outdoor portion of your house is different from commercial or indoor lighting. Below are things to remember when you choose to install residential outdoor lighting in the home;
Make a Plan
There are diverse ways of planning residential outdoor lighting. Some people recommend you to finish all things before planning lights while others state that you have to plan the placement of the lights before completing your landscape and outdoor structures. Either way will work and your plan depends on your preferences.
If you desire to plan garden lighting after finishing everything, evaluate and assess your property to determine areas that need lighting. Seek pathways, objects, ledges, steps, and dark areas that require lighting to prevent accidents. You can try locating the items you want to be highlighted for purposes of decoration.
Keep minimal Changes
You would not want a redo of your recent landscaping or outdoor project though to accommodate residential outdoor lighting. Apart from planning, you should plot your property carefully and the potential locations of your lighting before beginning your lighting project.
Use Variety
Get creative. Do not settle for purchasing one lamp set or a single set of embedded lights. Consider your idea of using various residential outdoor lighting items and fixtures. Driveways and paths, for instance, can get illuminated by lamps while focal objects, shrubs, and landscapes can get illuminated by up lights, backlights, and spotlights. Tiki torches, wall mounted lights, table lamps, and lanterns are possible options for your residential outdoor lighting.
Ask Experts
You need to consider help from experts in case you are not familiar with doing the installation by yourself. You need to take care because some people that claim to know some things about residential outdoor lighting have read catalogs or have learned through miss or hit. Get an installer from Palm Beach Landscape Design and Hardscape Pros with a reputation and who has been doing it for some time.
Check all Building Codes
Before connecting a wire, you need to make sure that you check on building codes and installation. It is not a matter of complying with set rules. It is a matter of keeping neighbors and family safe from faulty installation or wiring.
Practice Electrical Safety
The most crucial thing is to make sure that your lighting is safe at all times. Although the qualities of products are controlled by quality standards, you have to do your job to ensure safety. For instance, you need to consider having an external electrical split in the place of using extension wires. You can choose to put in place fault circuit interrupters near wet areas or pools. These precautions will help mitigate electrocution.
Before going on to order unnecessarily expensive stuff for lighting the interiors, you should go for residential outdoor lighting instead. After all, the exteriors are what visitors see first. Think about it as your house's face. An excellent countenance will not fail to make lasting impressions. Therefore, it is vital to dedicate your resources and time to improving the exterior appearance of the home.
While enhancing your exteriors, the most essential thing to consider is lighting, for the unlighted exterior is dull and mediocre. It does not make impressions on the eye. You might be having good exteriors that fascinate during the day but the beauty gets consumed by darkness if you do not install residential outdoor lighting from Palm Beach Landscape Design and Hardscape Pros.
Residential outdoor lighting works in amazing ways. What seems ordinary in daytime will be wonderful at night provided there is the right lighting.
When it comes to outdoor living areas, Ornelas Landscape Design are the best. We are very reliable, and we have proven through our perfect work that we are the best and very dependable. The list above comprises of the top services that we offer as a company. We have the skills and the capacity to deliver these services correctly. These are the services that you can get from our team of professionals;
Landscape Design & Installation

Outdoor Patios

Outdoor Pergolas

Stonescapes

Residential Landscaping

Commercial Landscaping
Irrigation Installation & Repairs

Drainage Systems

Landscape Lighting

Outdoor Living Spaces

Tree Service

Lawn Service
Here is a list of our services you can get at Palm Beach Landscape Design & Hardscape Pros:
---