Best Pergola Installation Contractors in West Palm Beach FL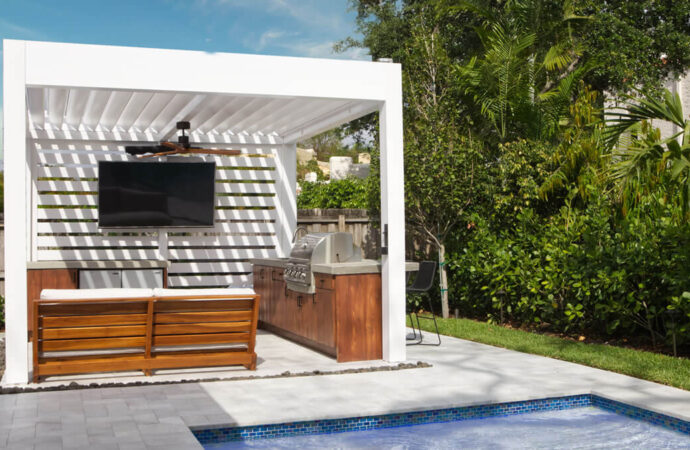 Well if you have a home then I'm sure there are those times that you look at your compound and feel like something is missing.  Well, that's right. Your home is never complete without some things like pergolas which adds in a bigger way to the beauty of your home.
If you have a home and looking to add to it some features that will make it stand out you need to build a pergola in your compound. Pergolas even though not so famous in most places comes with so many benefits.
The most obvious benefit of a pergola is that it allows you a place where you can sit and have the best experience of the warm weather. Other than that, there could be other indirect benefits like the enhancement of your home value as well as the beauty.
This means if you have a home with a pergola then it is more likely to cost more compared to one that does not have a pergola. This, therefore, calls for you to build a pergola in your compound or home. It will benefit you in more ways than you can imagine.
Well before you think of designing and eventually coming up with a pergola there are a few things that you need to know. First of all, you need to know that pergolas do not just fit perfectly in any place, there those areas that are not perfect fits pergolas.
Therefore the first thing that you need to consider is where you are going to build this pergola. You need to identify the best place in your compound where you will bring up this facility. You need somewhere where you will be able to enjoy the best of your time.
If you do not have enough space in your compound for this project then you can design it in such a way that it will look like an extension of your house. All you need to do is to look for experts from the Palm Beach Landscape Design and Hardscape Pros to come up with the best design for you.
The company offers the best affordable services. If you contact the company it will survey your compound and find the right place where they can fit the pergola. Well even though it might look like pergolas serve a standard role that is not the case at all.
People build pergolas for different reasons. It is very vital for you to have a clear reason as to why you are building a pergola. This purpose will act as a perfect guide to the company during the construction process. Depending on what you intend to use your pergola for, the company will give you the very best of it.
The company works with experts who are good at designing all types of pergolas of all sizes. Whether you need a bigger pergola or a smaller one the company will give you the very best of it. You only need to explain to them what you expect of them and they will take it from there.
When building pergolas some people tend to ignore some things which are very essential like security. Security is a very important consideration that should always ring in the minds of the people carrying out this process.
Luckily for you, Palm Beach is the one that does not take anything for granted. During the construction process, they will keenly consider every possibility, and security will be one of them. At the end of the whole process, the company will deliver to you an appealing and secure pergola that you will really like.
Pergolas are some of those must-haves that must be in your compound. If you do not have one yet you need to reach out to Palm Beach Landscape Design and Hardscape Pros. The company will carefully design one that will match perfectly with your compound.
When it comes to outdoor living areas, Ornelas Landscape Design are the best. We are very reliable, and we have proven through our perfect work that we are the best and very dependable. The list above comprises of the top services that we offer as a company. We have the skills and the capacity to deliver these services correctly. These are the services that you can get from our team of professionals;
Landscape Design & Installation

Outdoor Patios

Outdoor Pergolas

Stonescapes

Residential Landscaping

Commercial Landscaping
Irrigation Installation & Repairs

Drainage Systems

Landscape Lighting

Outdoor Living Spaces

Tree Service

Lawn Service
Here is a list of our services you can get at Palm Beach Landscape Design & Hardscape Pros:
---