Top Residential Outdoor Living Spaces in Palm Beach County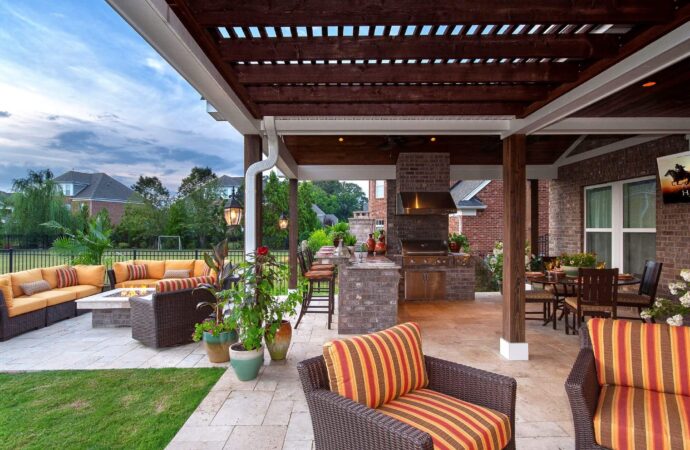 Residential outdoor living spaces can always guarantee you the utmost enjoyment, especially when your planning goes into designs. The overall outcome will always be an increase in your property's value and also have a pleasant living space. These excellent designs combine aesthetics, unity, harmony, merging symmetry, and functionality of the design process. 
And when it comes to having good designs, then proportion is one key element you need to bear in mind. This will take into consideration the relationship between the backdrop and the elements. This has to do with the proper planning for the future as things like plants grow over time. 
Color is also the other essential aspect. This is usually the life of your entire outdoor space design. The colors that you are going to select will always create the mood and the feeling of your outdoor space. Colors like orange, red, and yellow stand out more by giving off warmth. Also, colors like purple, green, and blue can go well with the background making the atmosphere much more relaxed. 
You can also choose to combine the colors by mixing the different textures and colors. Bold and bright colors in some areas also emphasize the areas you need showcasing. During this process, design software is of great help as it will provide you with a virtual appearance of your home. Ensure you are building up appealing designs to ascertain whether they fit the prominently and taste of your outdoor space and home. 
Therefore, residential landscape design deals with making your outdoor living spaces more beautiful and attractive. And the main reason why most people consider having their residential living spaces decorated is to boost the resale value of their homes and make their outside look more appealing. This could be achieved by also adding botanicals that could give you visual interest and even provide privacy. 
However, making your residential outdoor living space beautiful and attractive is something that you can try on your own. You can do this by planting small trees, preparing flower beds, and even doing some lighting. But when you need the best quality results to consider the services of professionals like Palm Beach Landscape Design and Hardscape Pros who know the best designs and can help you execute the task with a budget within your pocket. 
When dealing with your outdoor space, then you must bear in mind that your area should be adaptable to changes. You must experiment with your home with different landscape designs and other features. Remember being open-minded and creative are vital elements when you need to have that beautiful, attractive outdoor living space.
So, we can design our ideal places of tranquility and peace by incorporating the best residential landscape designs. Despite the fact, we have differing ideas for our landscapes, each one of us wants to see that warm and welcoming home front after tiresome days at work and on weekends. 
Nothing beats more your heart than coming home to a calm landscape that places your mind at rest and gives you the best facilities to relax from the day. Hence, it is your responsibility to ensure that you are making your home attractive with landscape designs that rhyme with your home. Remember that you will be investing your time and asset, which will be worth it when you consider the value of your new residential outdoor living space.
You can make your dream come true of having that beautiful outdoor space that you wish by giving your ideas to an expert and creating correct designs. A well-thought-out residential landscape design will increase the worth of your home and give you a very comfortable yard to relax. All you need to do is select the best design, colors, and textures, and you shall be happy whenever you are at home.
When it comes to outdoor living areas, Ornelas Landscape Design are the best. We are very reliable, and we have proven through our perfect work that we are the best and very dependable. The list above comprises of the top services that we offer as a company. We have the skills and the capacity to deliver these services correctly. These are the services that you can get from our team of professionals;
Landscape Design & Installation

Outdoor Patios

Outdoor Pergolas

Stonescapes

Residential Landscaping

Commercial Landscaping
Irrigation Installation & Repairs

Drainage Systems

Landscape Lighting

Outdoor Living Spaces

Tree Service

Lawn Service
Here is a list of our services you can get at Palm Beach Landscape Design & Hardscape Pros:
---