#1 Outdoor LED Garden Lighting Services in West Palm Beach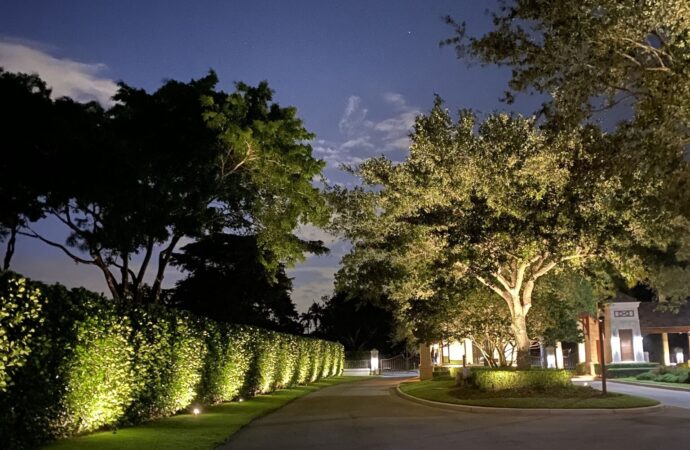 Many people are adopting the trend of lighting up their gardens for various reasons. Some do so for beauty, while others do so to enhance safety in that area. However, the issue is never really about the reason for the illumination of the garden, but instead, it is always about how well this process is done and if the right results are achieved.
Before you even embark on any garden lighting process, you need to think out this idea and know exactly what you need to achieve. If your aim is to enhance safety within the garden, you need to think of how to carry out this process correctly.
Some people regard the process of outdoor LED garden lighting to be so easy, but it requires a lot of work when it comes to design and the details. This is a process that requires the use of professional skills and expertise.
Knowing the right height at which to fix the lights for garden illumination is very important. If the lights are not set at the right height, they might not be able to serve their roles perfectly. It is only through expertise and skills that you will be able to know where to fit the lights perfectly.
The process of garden illumination is not the one that you can carry on by yourself. The process requires skills that you might not have. It might not even be possible for you to come up with a perfect design for this process.
LED lights are the best when it comes to lighting up garden areas, and this is due to many reasons. First, LED lights are so easy to maintain and energy-efficient. It is because of this reason that so many people prefer these lights for lighting their garden areas.
If you have never used them to light your garden are you can try them out, and you will notice the difference. So many people are making use of them, and they have so much to say about them in terms of how good they are.
However, installing these lights in place is not that easy. Without proper skills, it might not be possible for you to fit these lights in place. If you do, then you might not be able to carry out this process in the right way.
If you have a garden that you need to fill with LED lights, then you need help to do so. There are a few experts who are so good at LED lights installation in garden areas. However, you have to be very careful when selecting these experts and chose the best of them all since this process is very complicated.
For perfect installation of LED lights in garden areas, you need to talk to Palm Beach Landscape Design and Hardscape Pros. This is a top company that has so much experience in the installation of LED lights in gardens. The company's expertise is due to the many years it has been in services offering the best and perfect services.
Depending on why you are installing the LED lights in the garden, the company will deliver to you a team that is so good to help you with the process. The experts from Palm Beach are well trained to ensure they only focus on the services they are delivering in your compound.
If you need some styling in the manner in which this process is carried out, the company will be able to do that for you correctly.
If you need to install LED lights in your garden look for no one else but Palm Beach Landscape Design and Hardscape Pros. This is the best company for this process, and it offers nothing short of perfect services once contracted.
When it comes to outdoor living areas, Ornelas Landscape Design are the best. We are very reliable, and we have proven through our perfect work that we are the best and very dependable. The list above comprises of the top services that we offer as a company. We have the skills and the capacity to deliver these services correctly. These are the services that you can get from our team of professionals;
Landscape Design & Installation

Outdoor Patios

Outdoor Pergolas

Stonescapes

Residential Landscaping

Commercial Landscaping
Irrigation Installation & Repairs

Drainage Systems

Landscape Lighting

Outdoor Living Spaces

Tree Service

Lawn Service
Here is a list of our services you can get at Palm Beach Landscape Design & Hardscape Pros:
---