Top Outdoor LED Landscape Lighting Services in Palm Beach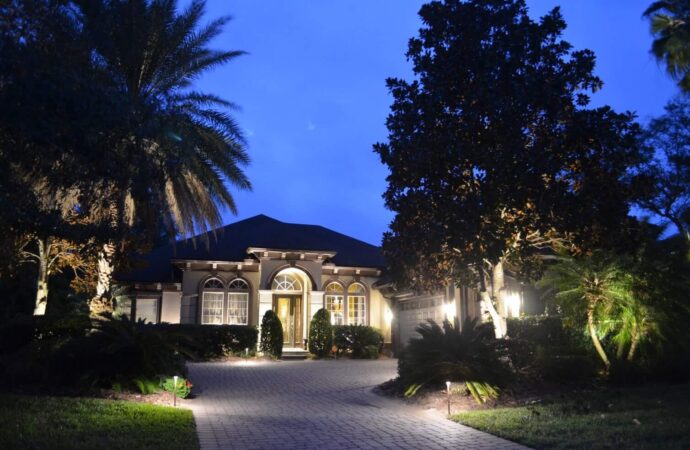 There are many ideas in the market for outdoor LED landscape lighting. The most crucial thing to do is to get safety for your guests and family, and to enhance your home's beauty. Below are a few ways of doing both;
Patios And Deck
Patios and decks bear the design of being entertainment places but without the right lighting, they can become hazardous, especially if there are changes in elevation like seating, planter, or steps. Landscape lighting can get added to the patio or deck with ease to illuminate them and make it pleasant for the outdoor. There are many options on the market like recessed lights that fit in the deck by themselves.
They are durable and you can step on them without shattering. The other option for outdoor LED landscape lighting is having lamps on decks. Decks from Palm Beach Landscape Design and Hardscape Pros come in many sizes and shapes and can be good additions to the deck. With the right planning, they become part of your design and add architectural elements to the patio or deck. The other considerable option is the addition of post cap lights to the deck. The design of the deck will benefit from additional detail.
Fountain and water features lighting
Outdoor LED landscape lighting can enhance features of water like fountains with excellent effects. The fountain can glow and a minute pond can undergo transformation from below the surface of water with LED lighting. You need to be sure and select the right lighting for the situation. It makes the difference on how the water feature will be seen. The commonest choice for fountain outdoor LED landscape lighting is submersible light. The lights are put below water and start illuminating upwards to create shimmering effects. They help to illuminate water streams while flowing in the fountain basin.
You can add colored fixtures for creativity. Outdoor LED landscape lighting is the right choice for your fountain since it is affordable. It comes in many colors. The cheapest option is solar lighting and it is also easy to install. It is becoming a populous choice because of its cost. Nonetheless, you might not get enough lighting for your setting with the solar, although technology is on the rise. Choosing correct lighting for the fountain requires some planning. You need to experiment with flashlights during the night to ascertain the location which will serve you best for fountain lighting.
Walkway Lighting
Walkway lighting from Palm Beach Landscape Design and Hardscape Pros is vital since it adds safety and accentuates materials used on the path and surrounding plants. The commonest application today is solar lighting. It is possible to add solar lighting to the walkway in two hours affordably. Kits for lighting come with several lights, a source of power, and wiring.
Tree Lighting
Tree lighting involves down lighting and uplighting. Up lighting from Palm Beach Landscape Design and Hardscape Pros can be accomplished when you mount fixtures on the base of trees or around the drip line. You can aim these lights towards the branches and trunk. Outdoor LED landscape lighting is a great technique with specimen trees with excellent branching patterns.
Solar lighting might not be excellent for tree lighting. Down lighting is also good for tree lighting. Mounting your lights on tree branches and aiming them downwards helps to highlight bedding areas.
The other outdoor LED landscape lighting option is to utilize mountain globes. This product is fairly new but it has won a lot of rewards because there are shatter resistant designs. Globes come in different sizes of diameters and half globes.
Globes come in many designs and colors and they add life and creativity to the landscape. You can operate them by battery or hang them on established trees. They come with gorgeous speakers for ambiance.
When it comes to outdoor living areas, Ornelas Landscape Design are the best. We are very reliable, and we have proven through our perfect work that we are the best and very dependable. The list above comprises of the top services that we offer as a company. We have the skills and the capacity to deliver these services correctly. These are the services that you can get from our team of professionals;
Landscape Design & Installation

Outdoor Patios

Outdoor Pergolas

Stonescapes

Residential Landscaping

Commercial Landscaping
Irrigation Installation & Repairs

Drainage Systems

Landscape Lighting

Outdoor Living Spaces

Tree Service

Lawn Service
Here is a list of our services you can get at Palm Beach Landscape Design & Hardscape Pros:
---