Best Outdoor Spot Light Installation Services in West Palm Beach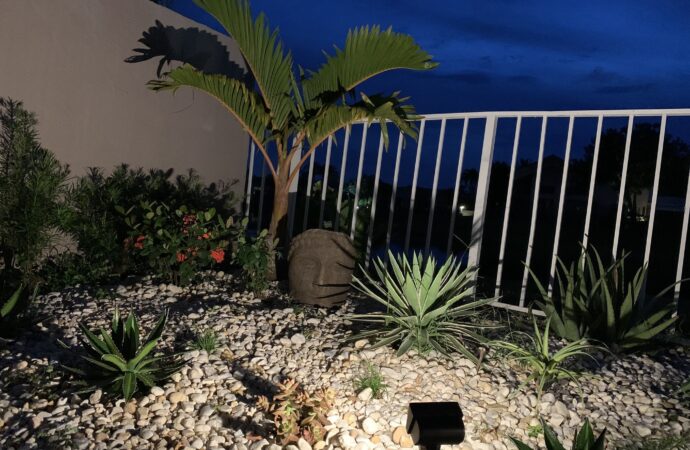 Each business or home establishment can benefit from outdoor spot lights installation. These spot lights have a lot of purposes that range from the provision of added safety, provision of extra security, provision of diverse ambiance forms, and highlighting pathways. The lights are an excellent addition to all outdoor lighting schemes.
To start with, when you think of spot lights, you figure rock concerts or skating events. That is what comes to the mind, to begin with. Such notions are outdated. Historically, spot lights have lit little targets from far. Today, the utility of spot lights has left historical uses and you can now get spot lights in dissimilar locations. These lights are common in industrial spaces, commercial spaces, residential spaces, and urban spaces.
The effective utilization of these lights can be functional or dramatic. Both decorative or artistic and utilitarian functionalities can be accomplished with the utility of such lights.
People confuse outdoor spot lights with floodlights. These lights are dissimilar and they serve different purposes. However, they have similarities which give them confusion. The obvious similarity is that their installation is done far from the target location of illumination. The difference is the intended illumination focus. Floodlights light up large areas like football fields or parking lots. Spot lights narrow their focus to small areas like a figure skater or singer. Select the light you want according to the intended purpose.
Outdoor spot lights are effective in outdoor night parties. With the right utility, these lights will give you dual services. The proper utilization of these lights will be a safety feature for your property and be a decoration form. Spot lights will highlight food areas, entries, pathways, and exits. Also, well-positioned spot lights will highlight garden art. Alternatively, spot lights will be positioned to allow crossed beams of light to provide a nice effect.
Motion detector outdoor spot lights are effective safety features at entrances, gates, and driveways. Motion triggers the detector lights. Modern spot lights are not activated by squirrels or cats. Spot lights are effective solutions for people who want light security but do not wish to waste the expense of powering the lights full time. These lights are a great way to conserve electricity for green-interested people.
Outdoor spot lights from Palm Beach Landscape Design and Hardscape Pros are affordable and easy to put in place. If these lights are implemented, they consume minimal electricity. With some thought, outdoor spot lights are perfect additions to the outdoor scheme.
These lights are similar to other lights on the market. What differentiates them from the rest is their design of being outside. They are easy when it comes to withstanding the harsh environments of the world like strong winds, heavy rainfall, natural and wild complications, and animal attacks. After saying that, outdoor spot lights are the best things you can use to enhance your lovely spot. In case you are hard to please and picky, you will still get spot lights that are catchy from Palm Beach Landscape Design and Hardscape Pros for your garden.
All of them can sustain light and effects of the shadow for optimal enhancement of beauty. You can place them in a location where light can hit and reflect a beautiful fountain in the middle of the plot to come up with fluid and serene effect. You can also choose to spot your light on a statue you have been working hard to put forth its importance and beauty. There are a lot of ways of using and exploring the wonders of spot lights for plots. You need to carry out many studies and researches to the place to situate them in the home. This spot will optimize the elegance and natural beauty of the garden.
When it comes to outdoor living areas, Ornelas Landscape Design are the best. We are very reliable, and we have proven through our perfect work that we are the best and very dependable. The list above comprises of the top services that we offer as a company. We have the skills and the capacity to deliver these services correctly. These are the services that you can get from our team of professionals;
Landscape Design & Installation

Outdoor Patios

Outdoor Pergolas

Stonescapes

Residential Landscaping

Commercial Landscaping
Irrigation Installation & Repairs

Drainage Systems

Landscape Lighting

Outdoor Living Spaces

Tree Service

Lawn Service
Here is a list of our services you can get at Palm Beach Landscape Design & Hardscape Pros:
---